Mendocino: Rental Bicycles
Bikes available for Stanford Inn guests only during 2021.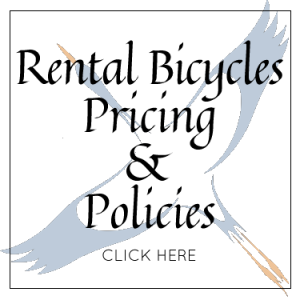 Are you looking for a delightful way to experience the spectacular Mendocino coast?
Hop on a bicycle from Catch A Canoe & Bicycles, Too! and find out just how much fun it can be to discover the wonders of this exquisite area.
Redwood canyons and coastal bluffs are only a short distance away from our shop on Big River. Explore the quaint historic town of Mendocino, or ride the popular Big River Trail just across from our location.
Whether you are a novice seeking a leisurely outing—or an expert in search of an all-day expedition, we have everything you'll need including detailed maps and trail advice.
Please note that bicycles are complimentary for Stanford Inn guests. (this does not apply to boat rentals.) Children must be at least 10 years old for bike rentals. We don't have bike trailers or child seats available due to safety concerns on Big River bridge. Pet carriers are not available at this time, a much better option is to try one of our pet friendly redwood outrigger canoes.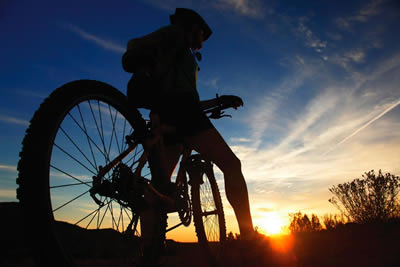 Mountain Bicycles
We have different size hard-tails from Cannondale and Trek which share an approximate retail value of $750. Medium and Large Cannondale full suspension bikes are available to experienced riders on a day rate basis.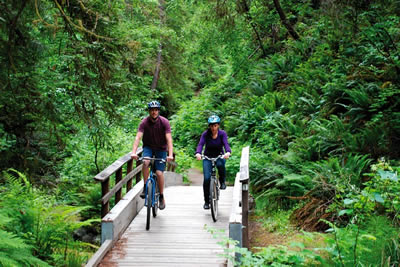 Comfort Bicycles
More upright than a mountain bike, with cushier seats and easy shifting, these popular bicycles are best for easier rides. Models from Trek and Cannondale are available daily from 9 to 5.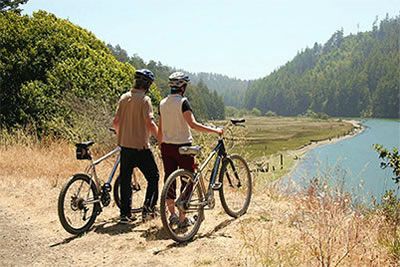 Trails
Our most popular ride twists and turns 10 miles alongside the majestic Big River within the confines of Big River Headlands State Park. We have the best local trail map which shows both aerial imagery and topographical data to assist you in route navigation. GPS trail intersection co-ordinates are shown as well as trail head parking and mileages from Highway 1. Maps available in folded or laminated wall versions only at Catch a Canoe & Bicycles Too.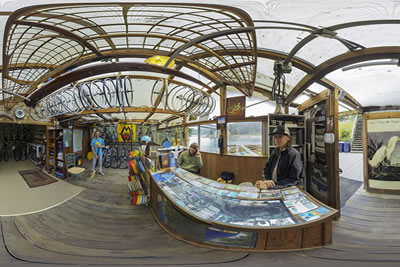 Bicycle Shop
Since 1987, Catch A Canoe & Bicycles, Too! has been Mendocino's foremost outfitter of the finest bicycles and equipment. We are proud to offer a full line of bikes from Cannondale and Trek, with Ibis cycles available by special order. Our professional staff can help to find just the right bike for you, and our service department can help you keep it running smoothly for years to come. We are a full-service bike shop and offer all types of tune-ups and repairs, from the simple flat tire to the complete overhaul.
"Whenever I see an adult on a bicycle, I have hope for the human race." — H.G. Wells