Mendocino: Rental Bicycles
Boat and Bike Rentals are open to all guests. We strongly suggest reservations, however drop-ins accepted if equipment is available.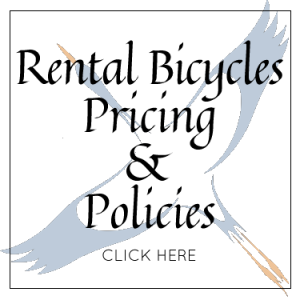 Are you looking for a delightful way to experience the spectacular Mendocino coast?
Hop on a bicycle from Catch A Canoe & Bicycles, Too! and find out just how much fun it can be to discover the wonders of this exquisite area.
Redwood canyons and coastal bluffs are only a short distance away from our shop on Big River. Explore the quaint historic town of Mendocino, or ride the popular Big River Trail just across from our location.
Whether you are a novice seeking a leisurely outing—or an expert in search of an all-day expedition, we have everything you'll need including detailed maps and trail advice.
Please note that bicycles are complimentary for Stanford Inn guests. (this does not apply to boat rentals.) Children must be at least 10 years old for bike rentals. We don't have bike trailers or child seats available due to safety concerns on Big River bridge. Pet carriers are not available at this time, a much better option is to try one of our pet friendly redwood outrigger canoes